The Courageous conference for men was a huge success. Around 200 men gathered together at the Congress Theatre in Cwmbran for worship, fellowship and solid Bible teaching from Gavin Peacock, Mez McConnell and Dai Hankey.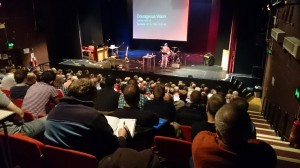 There were also seminars with Rob Parsons, James Richards and Nathan Davies.
The response to the day has been overwhelmingly positive and we have received numerous requests to host another Courageous conference next year. The steering committee will make a decision about whether to host Courageous in 2014 in due course. In the meantime, we are delighted to make videos of all of the teaching sessions, along with two of the seminars, available to you. We pray that they will be a blessing to you.